Dress to Impress With These Couple Watches
Couples share a beautiful bond together and feel each other's love through little gestures. In a bond filled with love, understanding, and unwavering support, twinning clothes and accessories are cute gestures couples love to do for each other.
Twinning accessories like watches create a sense of unity between the couples, right? If you are willing to embrace this trend, dress to impress and elevate your style with elegant couple watches.
Whether you want to match a pair for your everyday wear or simply want to get a classic look, our collection will help you nail down a perfect set.
Couple Watches to Add Grace to Your Look
Getting a coordinating pair of timepieces is a love language. Here are some couple watches that you must try at once:
Evergreen Beauty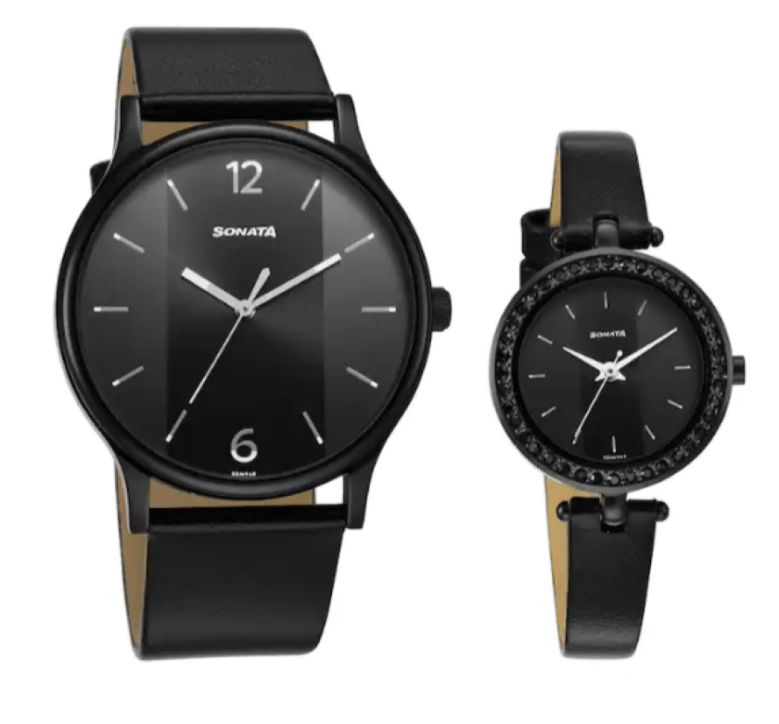 This Sonata pair black leather watch reflects timeless elegance and is an exclusive timepiece for couples. Exuding sophisticated and classic appeal, these add grace to your wrists. Whether planning a romantic dinner date or styling for a casual outing, these couple watches elevate your style effortlessly. The watches' quartz movement and analogue functioning depict impeccable craftsmanship. It ensures durability and reliability for your beautiful journey together. So, what are you thinking about? Embrace your bond with these Sonata watches and stay stylish.
Classic Elegance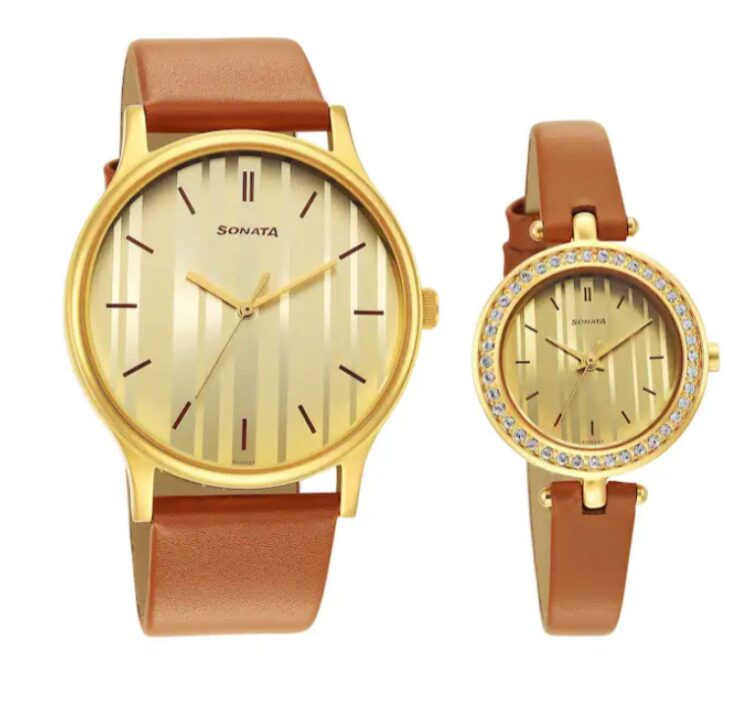 These brown Leather Sonata watches are the epitome of timeless charm and sophistication designed for couples. These watches feature exquisite champagne dials and complementary brown leather straps.
The warm hues and classic design of these couple watches make them perfectly suitable for any occasion. You don't have to put much effort into your style. These watches simply add charm to your overall appearance. Crafted with precision and attention to detail, these watches are reliable and durable, making them an excellent styling companion.
Shimmering Timepieces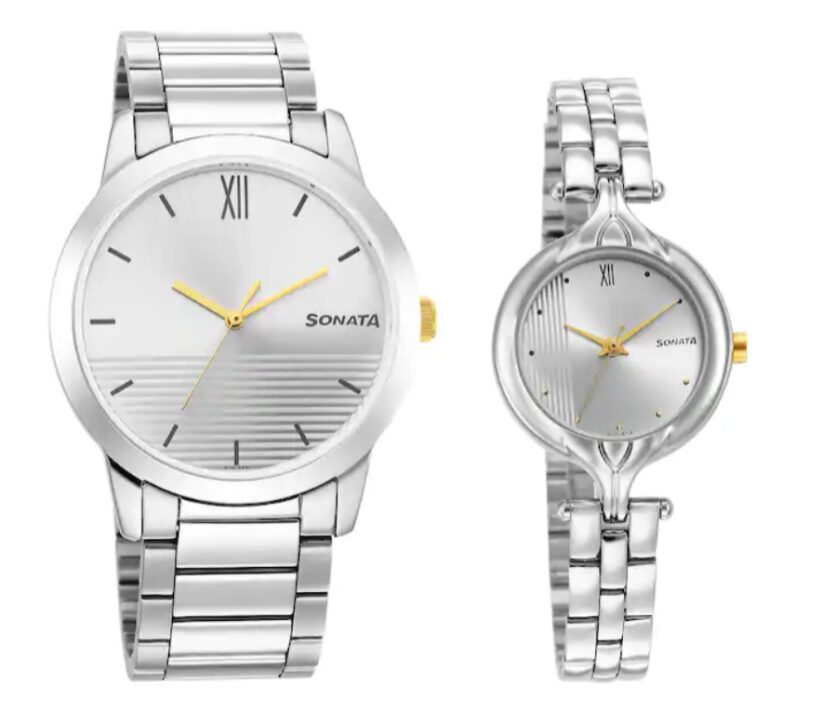 Silver watches are in trend, and their shimmering beauty gives you a graceful look. Ignite your style with these captivating watches to elevate your fashion game. The mesmerising silver dials reflect beauty, while the sleek stainless-steel straps add a touch of contemporary sophistication.
Whether attending a formal event or simply strolling hand in hand, these timepieces must be your perfect pick. Crafted with meticulous attention to detail, the high-quality stainless-steel straps ensure maximum comfort. Let your wrists sparkle with these couple watches and make a statement that reflects your unbreakable bond.
Captivating Charm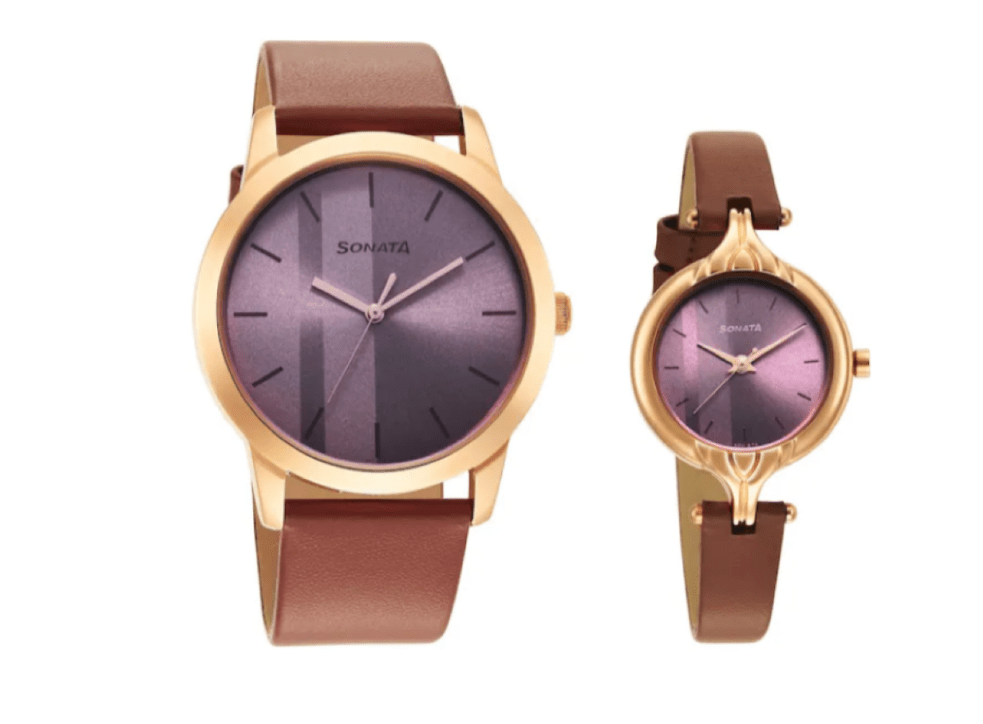 Are you looking for a little sporty look? If yes, then these Sonata Pair Brown Dial watches can help you unleash the allure of timeless charm. These couple watches have a rich and earthy tone of brown dials that complement their luxurious brown leather straps. This leather strap is supremely comfortable, while the intricate detailing depicts its craftsmanship and accurate timekeeping. These watches feature a 3 ATM water resistance feature, which offers protection from water splashes.
Just style these watches with your favourite outfits to match your twin game. From a romantic evening to a casual meetup with your friends, you can create a lasting impression with these beautiful couple watches.
Stunning Silver
Feel the essence of elegance with these Bandhan from Sonata – Silver White Dial Analog Watches. This captivating pair of timepieces imparts sophistication and grace, perfectly suitable for couples who love timeless beauty.
With pristine white dials and silver straps, these watches create a striking contrast that catches everyone's attention. Adorned with sleek silver-toned hour markers, these watches are a work of true artistry. If you prefer comfort over everything else, these couple watches are perfect for you. They provide the utmost comfort and create a luxurious appeal, making a statement on any occasion.
With their impeccable craftsmanship and reliable timekeeping, the couple watches symbolise a bond that transcends time, a love expression that will last forever.
Are you tired of looking for the right pair to rock your look? Don't worry! Some brands like Titan, Sonata, or Fastrack bring an exclusive collection of couple watches. These look extremely stylish and let you flaunt your look with your beloved partner. So, what's holding you back? Browse through their collection right away!